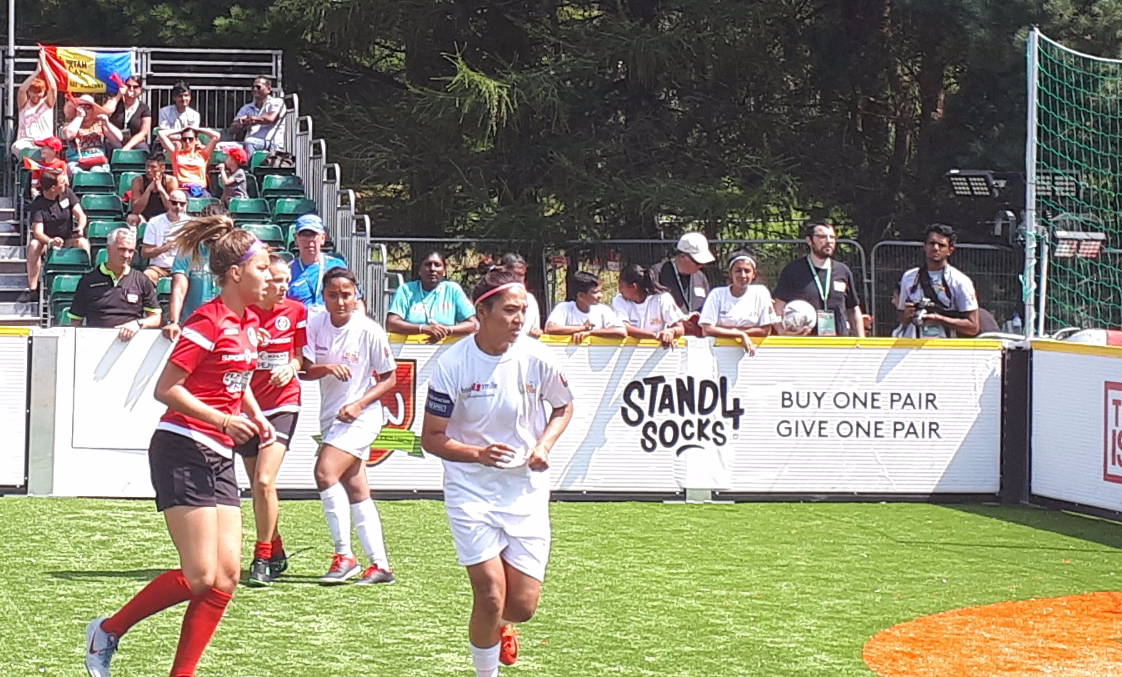 94% of players say the Homeless World Cup positively impacted their lives…
Have you heard of it?

We all know the ability of football to bring crowds of strangers together, regardless of their differences, all in the name of supporting their team! Our office is based in the centre of Manchester a city rich with football and even home to the national football museum. Football has a special meaning to all, be it kicking about with your mates in the park, travelling all over the country supporting your local team or coming together to support your national superstars on the world stage - football is a sport for everyone.
Well this is exactly the motive behind The Homeless World Cup - a week-long street football tournament that brings together more than 450 players representing 40+ countries around the world, all of which have faced homelessness and social marginalisation. For the players, this is a chance to feel involved in something, where they have responsibilities and where their team's success depends upon every one of them working together - some of the things a homeless person is often deprived of.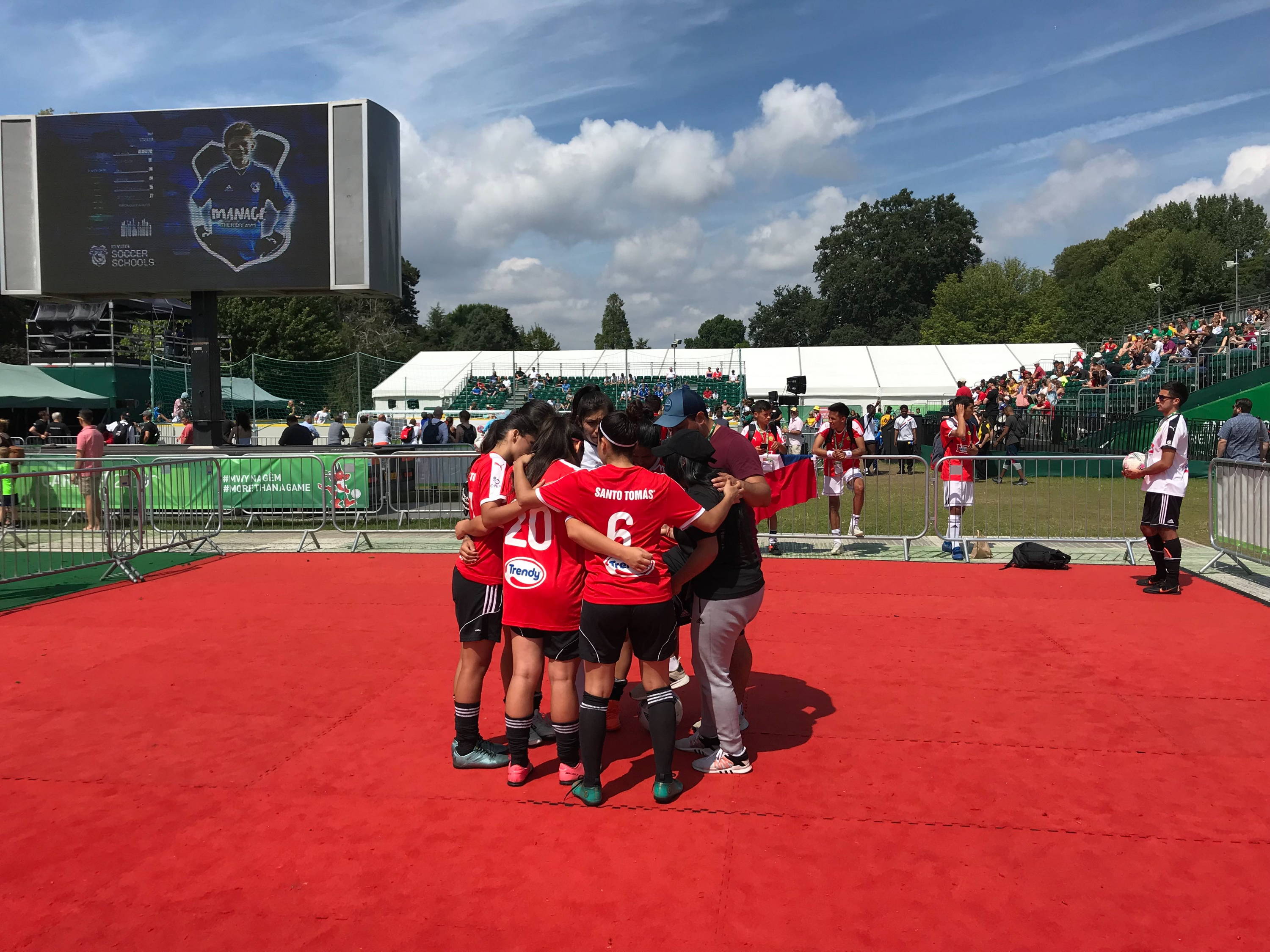 Chile's Women's team have a group discussion ahead of their game.
In addition to inspiring marginalised people to make positive changes in their lives, the Homeless World Cup annual tournament aims to challenge public's perceptions of homelessness and the issues that surround it.

Founded by Mel Young and Harald Schmied, the first tournament was in Graz, Austria in July 2013. This year the 17th edition took place in Cardiff's Bute Park and this one definitely knocked our socks off! Whilst Mel & Harald's vision was based on Football changing people's lives, our Founder Josh's inspiring thought was: 'What if socks could change the world?'. Socks are an item of clothing that most of us wear daily, so what if we could make a positive impact with each pair? This single thought evolved into Stand4 Socks! With this little bit of background information, I'm sure you can see why we had to get involved in this fantastic event - The Homeless World Cup 2019.
Our founder Josh met co-founder of the Homeless World Cup, Mel Young.
So we decided to sponsor the event and make our way down to Wales to personally donate 1,200 pairs of our specially made, antibacterial, durable socks to those participating in the tournament.
The men's competition consisted of 44 teams battling it out for their positions in six trophy competitions with rankings from tier six to tier one based on where the teams finished in the qualifying stages; the Beddgelert Cup, the Llewelyn Cup, the Dragon Cup, the Glyndwr Cup, the Cardiff Cup and the Homeless World Cup. Of the 16 women's teams they were split into two Cup competitions; the Celtic Cup and the Homeless World Cup. Both of Mexico's Men's and Women's teams were crowned the Champions of the 2019 Homeless World Cup! Well done Mexico!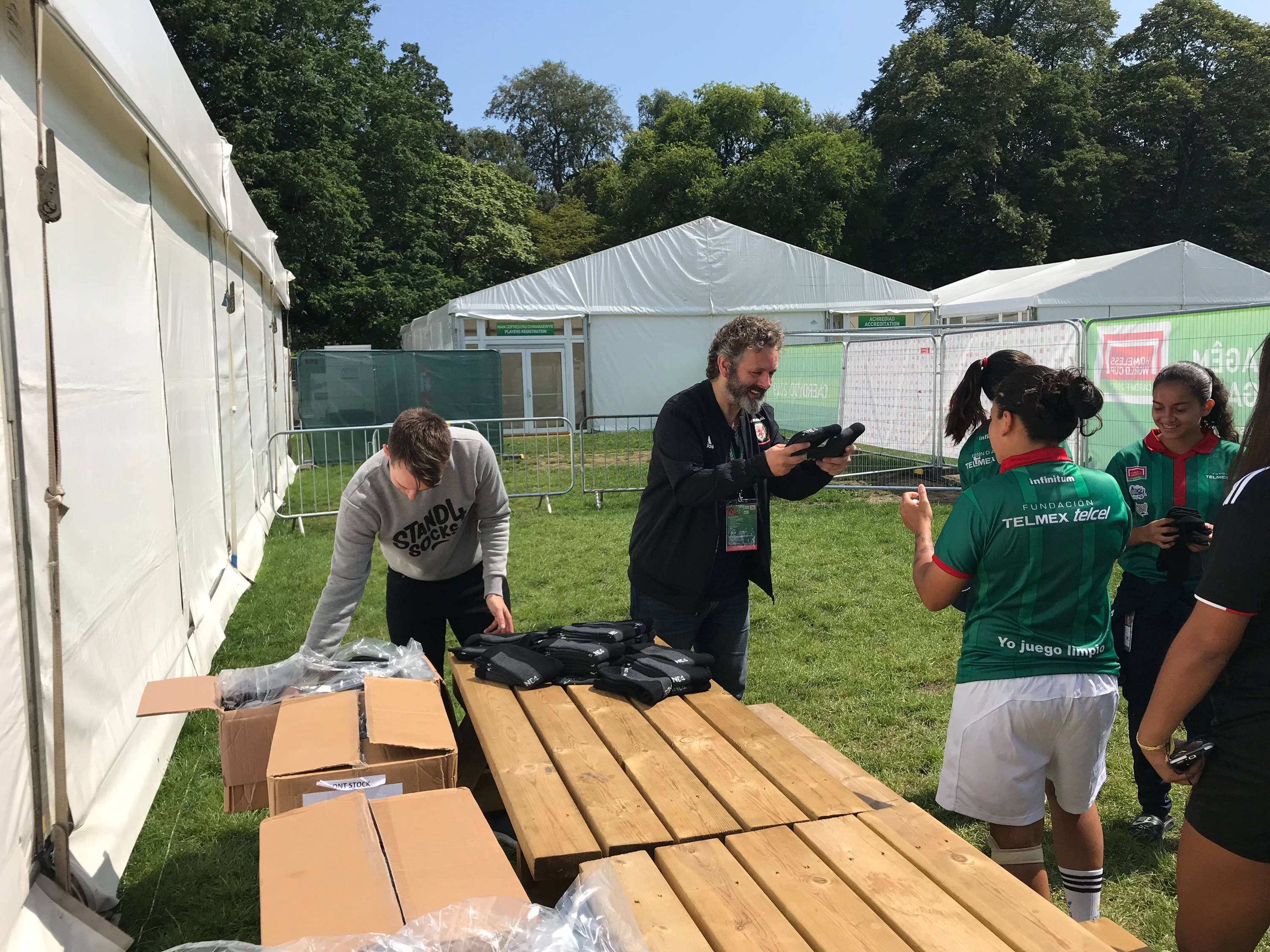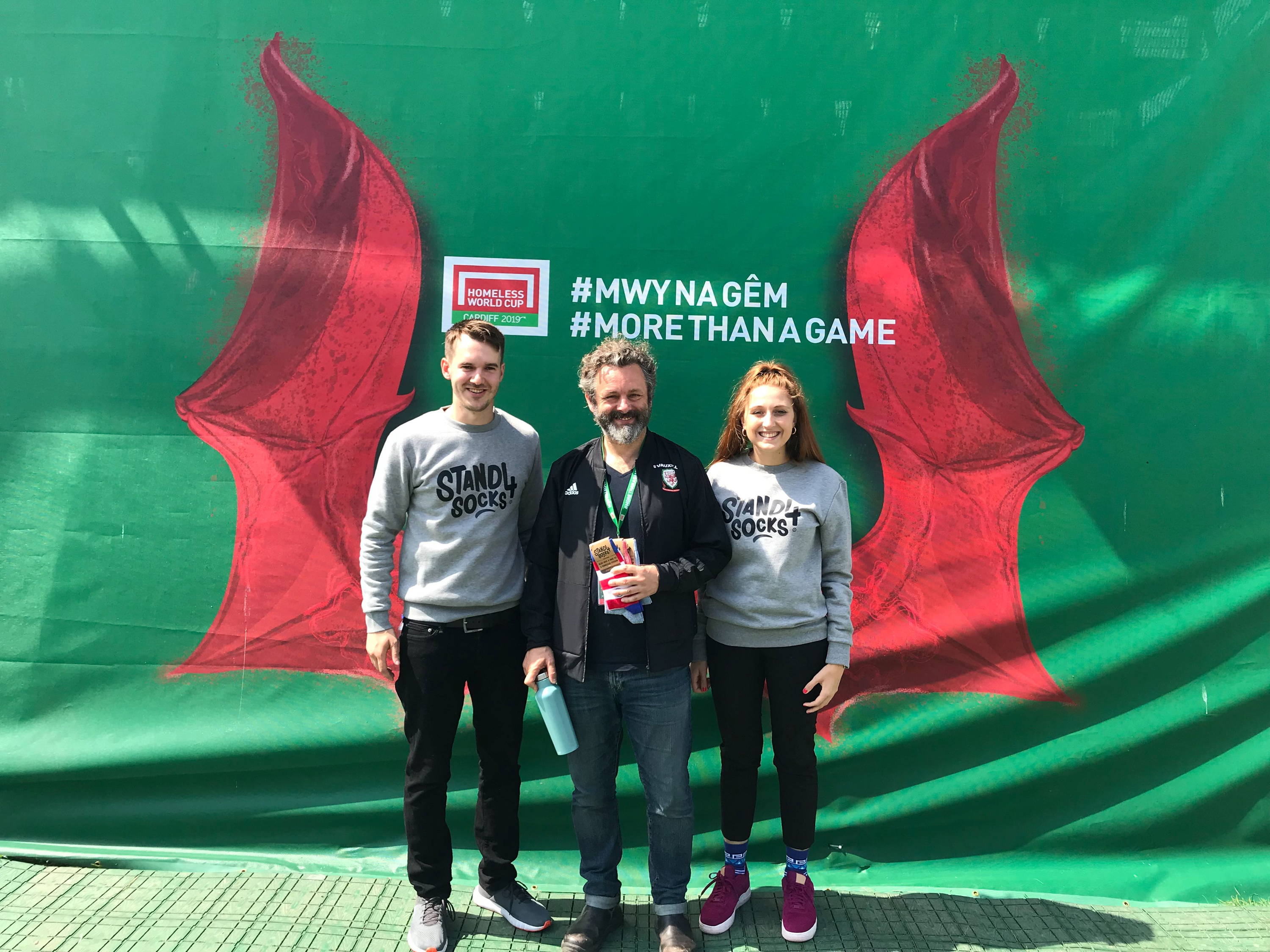 Michael has always been a supporter of social enterprise and is a patron of Social Enterprise Uk. Thanks for your help Michael!
Donation days are our favourite part of what we do...connecting upfront with our causes!

Hosting the event was award-winning Welsh actor Michael Sheen, known by many as the recent star of 'Good Omens' or Tony Blair in 'The Queen'. As a patron of Social Enterprise UK, Josh met Michael a few years back and it was great to meet him again to talk socks and much more! Michael helped us with donating the socks personally to the players and this was a real feel-good moment for us all and a chance to see how our work can make a difference to people's lives. Football fever at its finest! We will definitely be participating again next year.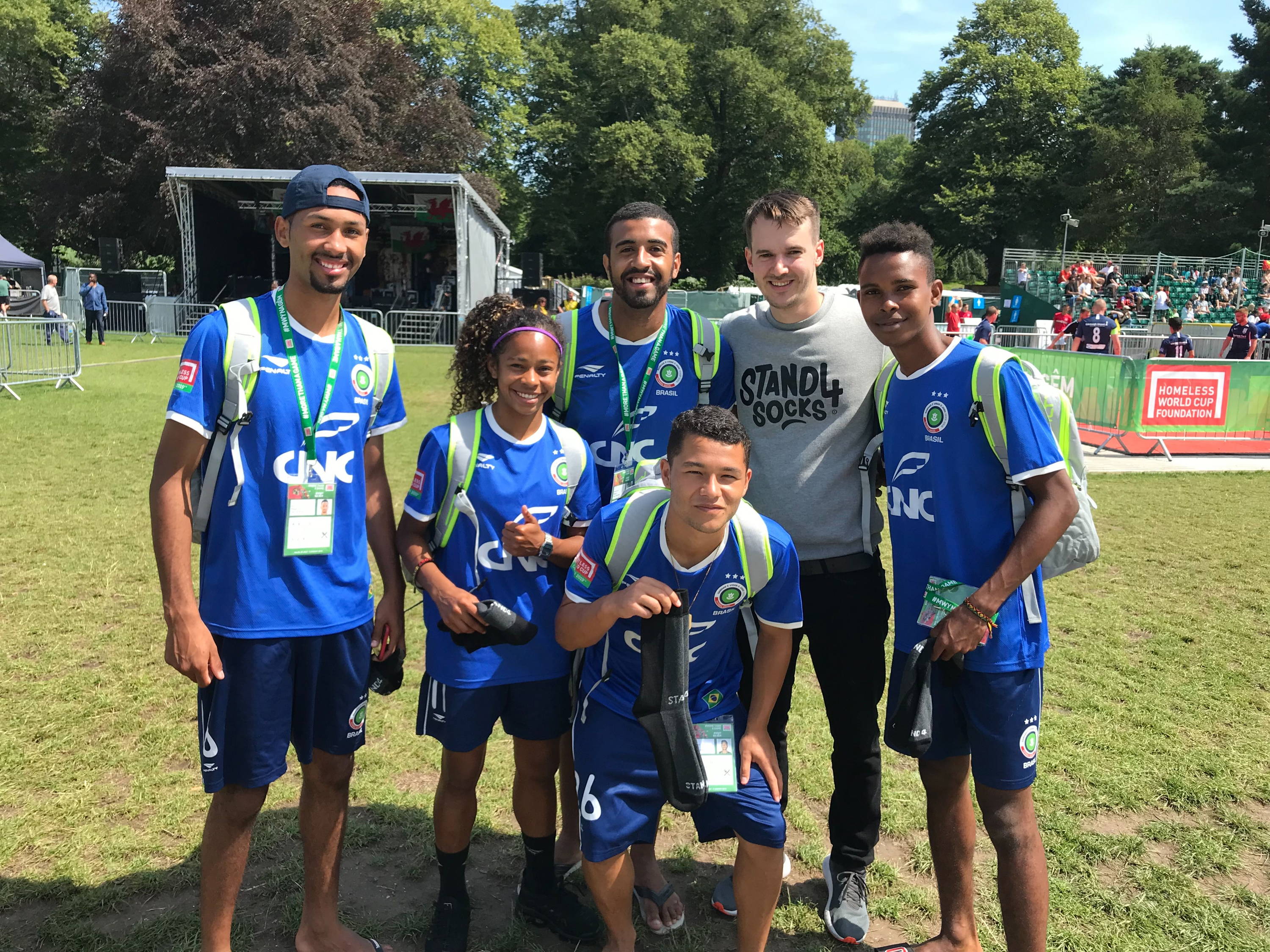 Josh finally made it onto the Brazil team!.
If you're homeless, you tend to be walking more than the average person and you don't have the luxury of fresh socks everyday. This can lead to a number of very serious foot health issues from something as simple as good quality socks. That's why Stand4 Socks donates a specially made, antibacterial pair to homeless people for every single pair they sell. What's more, their ethically made socks are pretty darn comfortable. They're so much more than just another pair of socks - I should know, I've been wearing them for years. So go on and try them!
— Michael Sheen
The Homeless World Cup Foundation is a great organisation to support and get involved in. You can find out more about what they do and how you can get involved here.