How to wear colourful socks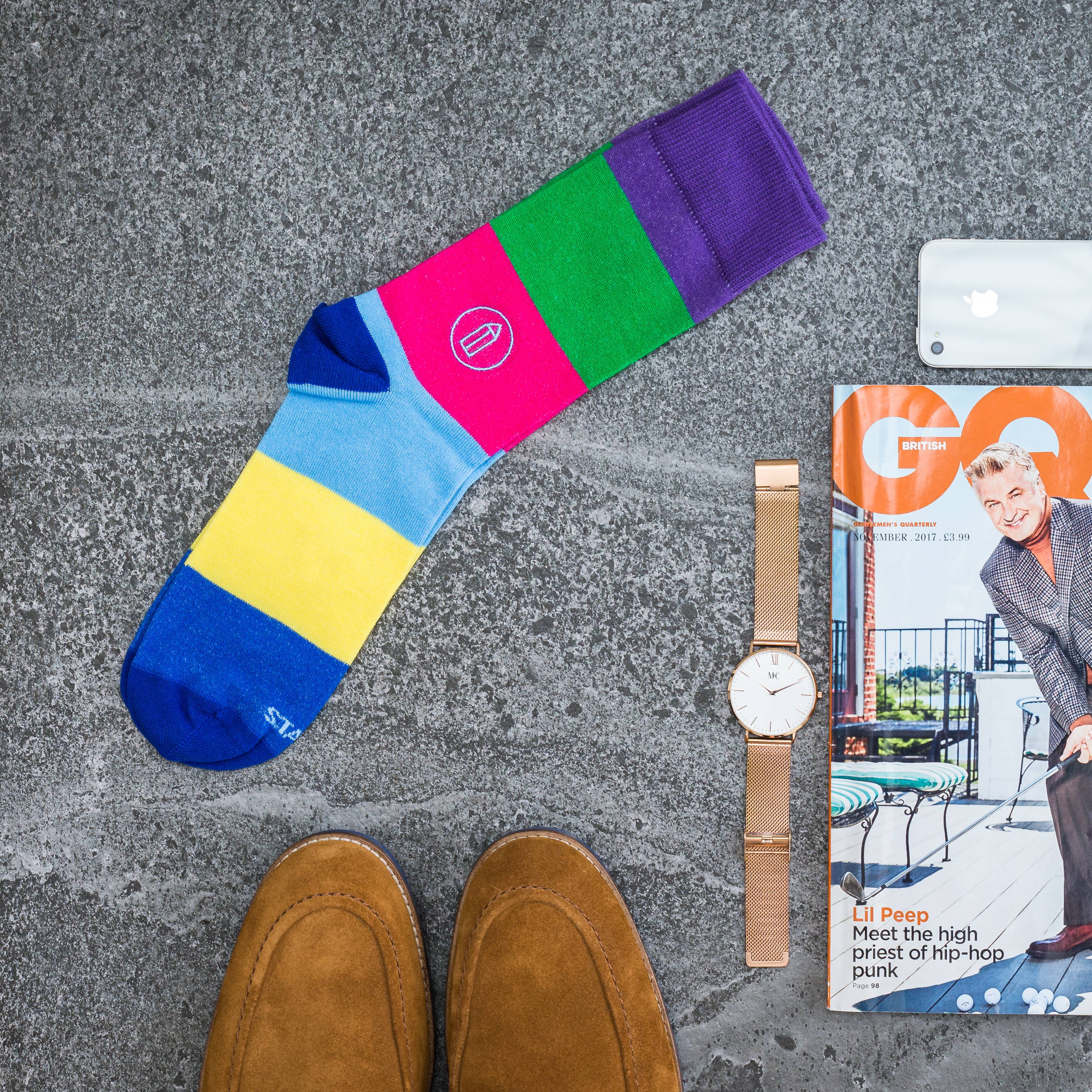 "Boldly be a pop of colour in a black & white world"
Colourful socks are a great way to add some detail and personality to any simple outfit, whether that's your work suit or your favourite pair of black jeans. They've become so popular, that sock subscriptions are on the rise, with people desperate to keep their sock-drawer topped up with the latest bold sock designs!
"Socks have rapidly become an acceptable fashion statement, globally!"
So with this rise in popularity, next comes the question of how to wear colourful socks. Here's a few of our styling tips when it comes to adding a pop of colour around the ankle.
1) When dressing casual (dress-down Friday at work, a few drinks in a bar), socks don't just have to be black anymore and gone are the days where a sock that matches your trousers is the only option. If the rest of your outfit is relatively subdued and doesn't have any loud colours, give it a boost with a pair of colourful socks. For example, if you're wearing a straight-leg pair of navy blue jeans, turned up at the ankle with some brown leather boots, match it with a pair of funky pair of socks with a bold pattern.
2) Match the socks to the overall feel of your outfit. Whether you're dressing for a casual, casual-smart, semi-formal or formal event, your socks should reflect this. As mentioned above, casual events are perfect for adding some fun to your outfit with a pair of bright and patterned socks. In a semi-formal (business casual) setting, funky socks are still acceptable, but not to the extent of when in a casual setting (so talking vaguely, we'd recommend picking the sock with the less crazy design but still in that 'fun section' of your sock drawer). In more formal settings (full suit and tie), it's best to keep the colour of your socks similar to that of your suit or tie.
3) Matching colourful socks to your pants will give a more cohesive look. You match them to your trousers and not your shoes because your socks are technically an extension of your trousers. Think about when you're sitting down or walking and your socks become visible - a consistent sock/pant colour will not interrupt your silhouette. We would recommend a solid colour sock with some patterned pants such as houndstooth or glen paid. If you're wearing solid pants however, picking a solid colour sock that is quite contrasting creates an overall appealing look.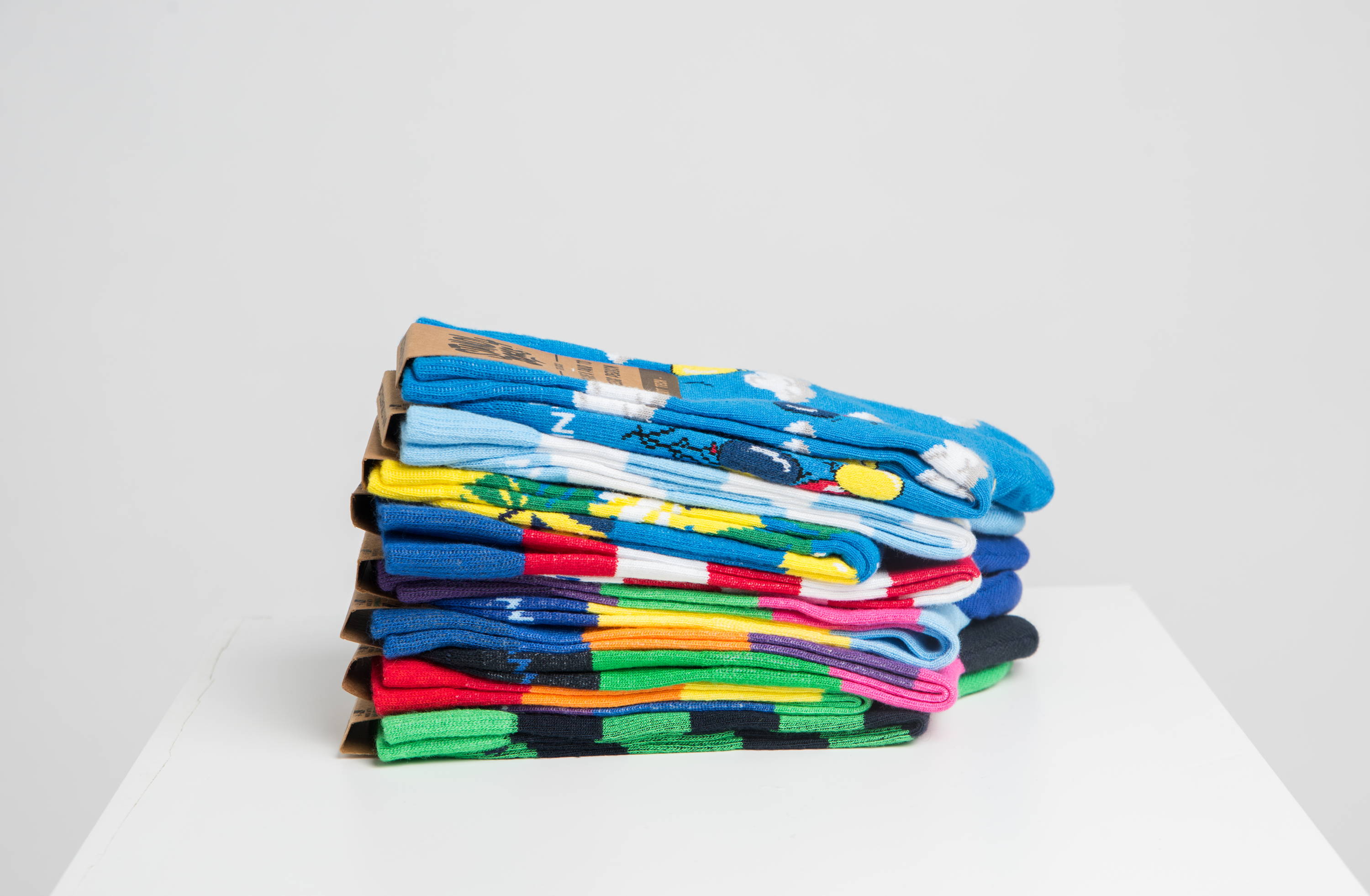 "If the rest of your outfit is relatively subdued and doesn't have any loud colours, give it a boost with a pair of colourful socks."
Experiment with different colours and have fun!
4) Bold, statement socks only need to be shown a little bit. A flash of colour is much more effective in making a loud statement, forming only a small percentage of your outfit, but making sure your trousers are an appropriate length also saves you from looking like your pants aren't a good fit!
5)There are occasions where bright coloured socks aren't ideal, such as important work meetings, or very formal black tie events. Whilst colourful socks with suits are definitely acceptable, just be aware of the length of your trouser leg. Trust your instincts, your 'personal brand' and know the occasion and we think you'll be fine!
A pair of fashionable, vibrant coloured socks is a great way to complete your outfit and make you feel more confident whilst doing so. Experiment with different colours and patterns and embrace a new look. Luckily bright socks with bold designs is what we do at Stand4 Socks - take a look for yourself!