Impact
Stand4 Socks is passionate about using the humble sock to change the world. Wearing a pair of snazzy socks could make a change to the lives of thousands of people.
Everyday people around the world suffer from malnutrition, war and famine. They experience fear and danger on a daily basis. People are still dying because they can't receive the emergency medical attention needed. The number of mothers and newborn babies who die after birth is unacceptable high. They should receive antenatal check-ups and vaccinations but don't receive anything. Inequality, discrimination and violence is now a regular occurrence for many men and woman just trying to survive. Water sources are still unsanitary and unsafe, leaving families no other options than to use to dirty water, making them seriously ill. Still, children are deprived of education, diminishing their true abilities.
Today, we have the opportunity to fight these problems. Stand4 Socks creates socks which will make a positive impact on as many issues as possible. Each pair of socks we create supports a different cause, represented by a distinct emblem on the ankle showing which cause is supported. We use the global UN goals as a starting point to tackle the causes we're passionate about most. These socks are not just socks anymore, they are a statement of compassion, charity and responsibility. Please, help us make a change.
Homeless - Buy one, give one
There are more and more homeless people in the world. In the UK, every one in approximately 175 people is homeless. 8,8 million people live in London and its number amounts to 8,000 people and many of them are children. Some of them can stay in a hostel or with friends or family but the majority has to sleep on the street as there is nobody who can support them.

There are many different reasons why a person becomes homeless. Most of them lost their job or suffer from mental or physical health problems. Some of them have no access to social benefits or had experienced domestic abuse or violence. Homelessness could also been caused by a catastrophe that had destroyed houses.

Looking into how Stand4 could tangibly support this issue we learnt that one of the most requested items was socks! Which we knew a little about. With our thick twisted cotton socks we directly give a homeless person a pair of thick, antibacterial socks. Simple.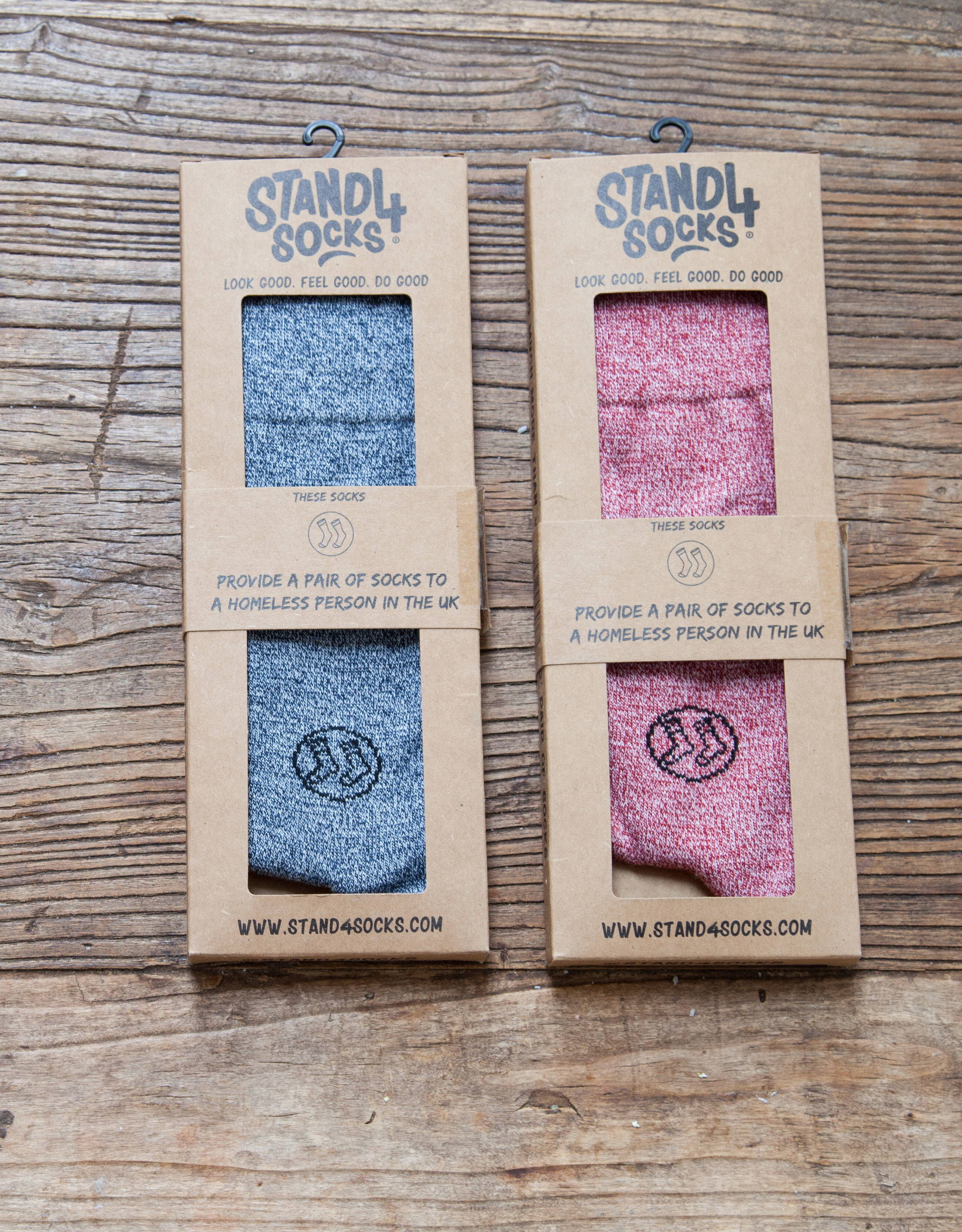 United Nations Global Goals
We are proud to support the UN Global Goals in a big way. These were agreed in 2015 by 193 of the world leaders, which if completed would mean an end to extreme poverty, inequity and climate change by 2030.
Currently our socks support 12 out of the 17 goals with tangible impacts from each pair across out cotton, bamboo and sports ranges. We are sure that we could change the World with Socks. It' an easy way & you don't need much money for it.